It took me a while to post this, but... my computer is a SUCCESS!
HOO-HAH! Look! Pics!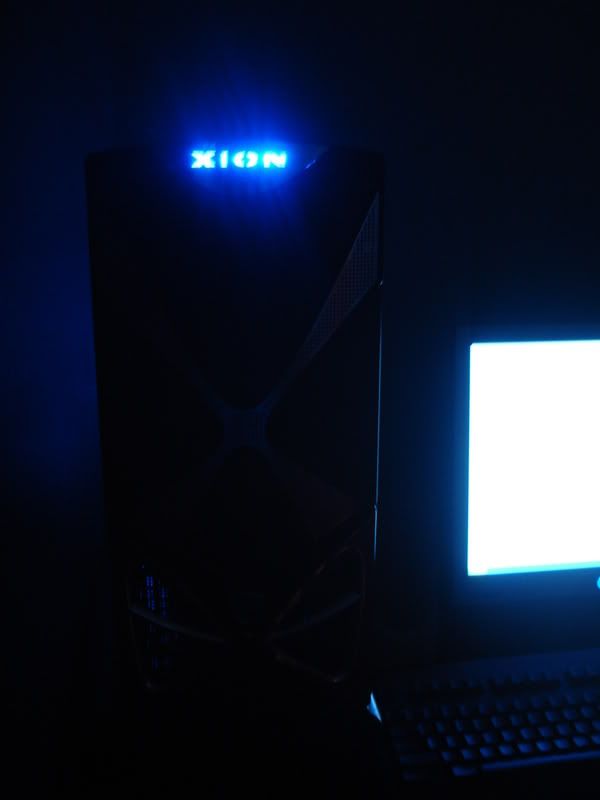 If you missed them before... THE SPECS!
- XION II XON-103 Black SECC Steel: ATX Mid Tower Computer Case w/ 450W Power Supply ~$65
- ECS KA3 MVP (V1.0A): AMD Socket AM2, ATI CrossFire Radeon XPRESS 3200, ATX Motherboard ~$125
- AMD Athlon 64 X2 4200+: 2.2GHz, 2x512KB L2 Cache, Socket AM2 Dual Core Processor ~$183
- POWERCOLOR X1600 PRO: 512MB GDDR2, PCI Express x16, CrossFire Ready Video Card ~$127
- AMPO 1GB DDR2 SDRAM: 240-Pin, 533Mhz (PC2 4200) System Memory ~$100
- Western Digital Caviar SE16: 250GB, 7200 RPM, 16MB Cache, SATA 3.0Gb/s Hard Drive ~$78
- Creative Sound Blaster Audigy SE: 7.1 Channels, 24-bit, 96KHz PCI Interface Sound Card ~$28
- SAMSUNG Black: 18X DVD+R 8X DVD+RW 8X DVD+R DL 18X DVD-R 6X DVD-RW 12X DVD-RAM 16X DVD-ROM 48X CD-R 32X CD-RW 48X CD-ROM 2M Cache E-IDE/ATAPI DVD Burner ~$31
- Windows XP Home: Service Pack 2 ~$200
Total ~$937
For the monitor, I'm temporarily stealing the LCD monitor from my Dad's dead eMachine.

Only 75Hz refresh rate and a top res of 1280 x 1024. I'll get a better one soon, tho.
So yeah... I am very happy! It runs Oblivion INSANELY well, as well as that Virtual PC thang. Good stuff!