Hello Tux! So I`m finally using Raine again and in a new hardware and I`m having some trouble in it. It`s a laptop with Windows 8 and with Intel HD graphics 4000.

So, whenever I enter fullscreen and press "Escape" to show the GUI, Raine window vanishes. I`ve tried returning to windowed mode before showing the GUI and then pressing "Escape" to avoid the issue, but the same happens. So no way to secure-close the emulator after a game is loaded in this machine for the moment, lol.

 

I tried to play with the video options but it didn`t solve the problem. This is how the GUI gets when I change the SDL video driver: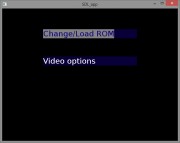 By the way, could you move the "FPS counter" option to the "Video options"? After quite some time not using the emu the "Video options" was my first bet to where I would find that option, so I suppose maybe it`s more intuitive to have it the "videos" since FPS is generally related to the video?
 
About the inputs, Raine seems to assign the buttons to whatever it finds as a game controller connected to the PC (before you start the program), but some controllers don`t have the same button layout. For example, a PlayStation formfactor-like controller can have the X, circle, square and triangle as button 1, 2, 3 and 4. But sometimes it could be button 0, 1, 2 and 3. The digital directional pad sometimes is "stick" but sometimes is "POV". So we have to reassign the buttons to the correct ones used by the driver. My question is if this is intended, and if it would be possible to add a wizard setup for the basic controller functions, that is, up, down, left, right, start, coin and the buttons used by the game. We have something like this in the Kega Fusion emulator if you`d like to check how it works. In the inputs, we click on "Define" and then the emu shows a message "Press keyboard key or direction for UP", "press keyboard key or button for A" etc, and then the setup becomes very quick and intuitive. What do you think?

Still about the inputs, could you revise the cosmetics on the save/load menu text boxes, lol? They look quite big. The "Load inputs from" doesn`t even fit the title in the text box: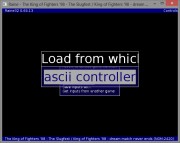 Instead of "Load from which?" maybe it could be "Load inputs profile".
In the "Save inputs as...", the title is labeled as "Edition":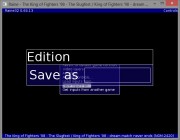 Instead of "Edition", it could be "Save inputs profile", and below it we could read "Enter profile name", with a bigger text field if possible.

Finally, isn`t it better to have the profile saved to a file in the "config" folder?

That`s it for now! Thank you for your long-standing support.
PS: And my request for the TMNT and Sunset Riders games are still up! lol