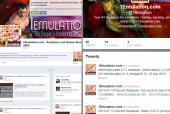 You can now get the latest emulation and games news from 1Emulation.com straight onto your most popular social networks! Every piece of news will now be automatically posted on both our Twitter and Facebook. Follow and like us now for the most immediate updates!
Like our new Facebook page!
http://facebook.com/1emulation
Follow us on our new Twitter page!